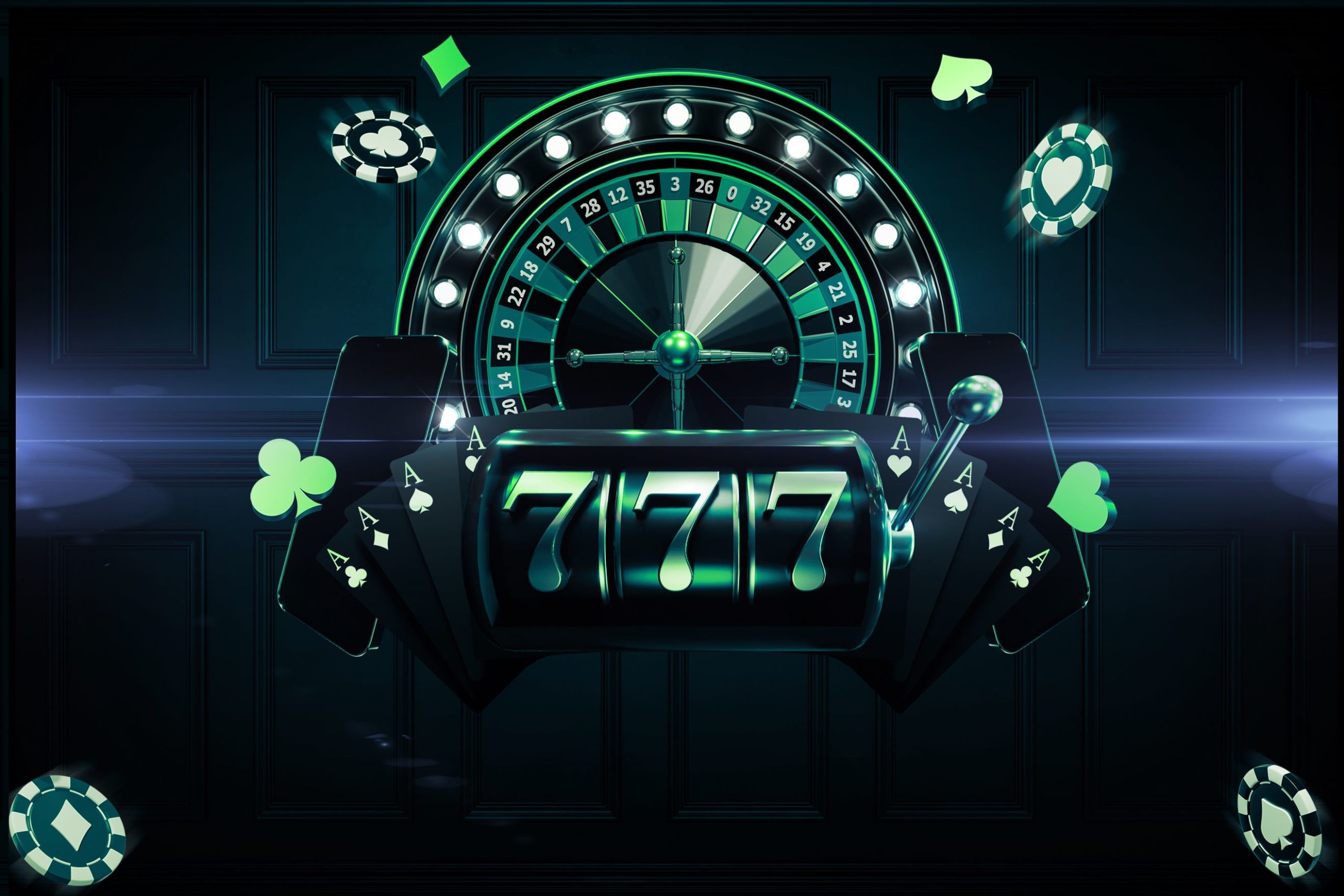 Infinite Blackjack
Infinite Blackjack from Evolution Gaming
Appearing in countless books, movies, and rainy-day living rooms, blackjack is a casino staple and it's here to stay. 
The casino creatives at Evolution Gaming have taken the blackjack rulebook and ripped it apart with the release of Infinite Blackjack live. Here, an unlimited number of players can wager on an initial two-card deal. (Before the cards are drawn, of course.)
We've got everything you need to know about Infinite Blackjack (occasionally referred to as Blackjack Infinite), right here. Let's shuffle up and deal.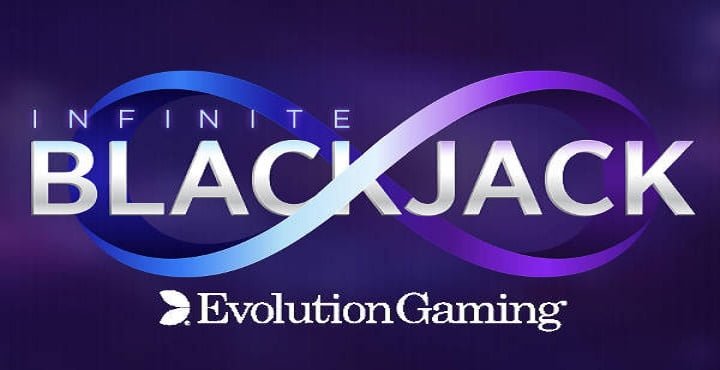 What Is Infinite Blackjack?
Infinite Blackjack is a blackjack variant created by the casino bods down at Evolution Gaming. The 'infinite' relates to the number of players that are able to get involved in each hand, which is unlimited. 
As opposed to classic blackjack, every player that's placed a back bet has the opportunity to hit, stand, split, or double. Classic blackjack doesn't facilitate this as it's the front bet that calls the action. 
Infinite blackjack strategy play also has a 'side bet' option. If you place a side bet, you could be enjoying the following outcomes.
Any Pair
The Any Pair side bet will pay out if players are dealt a pair and pays out as follows:
Suited Pair: 25:1
Any Pair: 8:1
The Any Pair side bet has an RTP of 95.90%
21 + 3
To fulfil the 21+3 side bet, it's calculated by the player's first two cards and the dealer's upcard making a three-card poker hand:
Suited Three-of-a-Kind: 100:1
Straight Flush: 40:1
Three-of-a-Kind: 30:1
Straight: 10:1
Flush: 5:1
The 21+3 side bet has an RTP of 96.30%. 
Hot 3
The Hot 3 side bet is calculated by the total of the player's first two cards and the dealer's upcard. Hot 3 pays:
7-7-7 (three sevens, any suit) : 100:1
21 (suited): 20:1
21 (unsuited): 4:1
20 (any suit): 2:1
19 (any suit): 1:1
The Hot 3 side bet comes with a 94.6% RTP.
Bust It
The  Bust It side bet pays out when the dealer busts according to the following paytable:
Dealer busts with 8+ cards: 250:1
Dealer busts with 7 cards: 100:1
Dealer busts with 6 cards: 50:1
Dealer busts with 5 cards: 9:1
Dealer busts with 4 cards: 2:1
Dealer busts with 3 cards: 1:1
The Bust It side bet comes in with a 94.12% RTP.
Infinite Blackjack Payment Methods
Skrill
Skrill is an e-wallet used for online purchases, as well as one of the most widely used payment methods for depositing at a Skrill live casino. 
Opening its virtual doors in 2001, Skrill was founded by Daniel Klein and Benjamin Kullman and was originally named Moneybookers. Come 2007, the Moneybookers brand was bought by Investcorp Technology Partners and by 2011 exceeded a user base of over 25 million customers and 150,000 businesses. To say that Skrill was killing it would be an understatement. 
The most popular and convenient way of funding your account for a Skrill casino deposit is with a debit card. Unlike its e-wallet cousin, NETELLER, deposit methods are limited with Skrill. While some may say that it's less versatile than NETELLER, a singular payment method is a simple, effective, and most of all safe way to transfer funds to your Skrill account. 
NETELLER
NETELLER is an e-wallet used for both gambling and online purchases. An e-wallet is a virtual account whereby you fund your e-wallet with either:
A debit card deposit 
A credit card deposit
A bank transfer
A cryptocurrency transfer
A transfer from another e-wallet provider
Originating from Canada back in 1999, NETELLER was ahead of the fold just as the internet was becoming more widespread. Due to the massive popularity of NETELLER at online casinos, operations were moved from Canada to the offshore online gambling hub of the Isle of Man in 2004. As online casinos flourished, as did NETELLER with over 95% of the e-wallets' income originating from the US gambling sector.  
Paysafecard
More of a voucher than a card, the Paysafecard facilitates online payments at online casinos.
Available at over 650,000 points of sale across more than 50 countries, Paysafecard can be used for the following:
In-person deposits that provide a 16-digit code to enable online purchases
Rapid transfer – instant payments sent globally. The benefits of Rapid Transfer are as follows:

Instant – as soon as the transaction is completed by the customer, funds are available immediately
Secure – using the bank's watertight security measures
PSD2 licensed – complying with EU payment regulations, Rapid Transfer is on the level
Chargeback protected – All payments are protected by indemnification
Payouts and refunds – a quick and efficient service
Paysafe cards also feature the following services:
Online payment
Payment processing
Receipt generation and management
Billing automation
Revenue management
Currency conversion
Multiple currency support
Secure payments
Mobile optimised solutions
Fraud detection
Payment risks management
APIs
Customized emails
Generate reports
How to Play Blackjack Online
Before you digitally saunter to an Infinite Blackjack table, you're going to need to know the blackjack basics before you play online. 
As we know, it's not the cards you're dealt, but the way you play your hand that counts. Never is this truer than in blackjack. Just remember – never say 'twist' – that's for the British game, pontoon. Oh, and you'll also look a bit silly talking to your monitor. 
We'll take a look at European blackjack as it's the version you're most likely to encounter at an online casino. If you fancy a go at American blackjack, there are a few minor adjustments. 
European blackjack has certain safeguards in place to protect players against making the wrong decision, namely that you can only double on 9,10,11 with your first two cards, not on anything, as in Vegas Strip blackjack or American blackjack. 
Let's take this from the dealer's perspective. The cards are dealt from left to right, with each player receiving two face-up cards, and the dealer one. The dealer then asks each player, again from left to right, if they would like to stand, hit, split or double (where possible). So, what do these words mean?
Stand – to not take any further cards
Hit – to take a further card
Split – to separate two cards of the same value and have two hands running consecutively (please note – you will also need to place twice your bet here). Split aces, if you land a picture card, do not count as a blackjack here, and pay 1:1.  
Double – double the value of your bet and receive one further card. No more, no less. 
If you go over 21, you lose your bet. When play comes around to the dealer, the house rules are as follows: the dealer must hit on anything below 17. So, if the dealer is showing 16, they must draw another card. If the dealer's cards are 17 or higher (but below 21) they must stand.
Infinite Blackjack live and Card Counting
Once the vocation of MIT undergraduates and shady professors, card counting is not as ominous as it may sound and the concept is a relatively simple one. 
Unfortunately, it is useless with land-based, live and RNG-based blackjack as the house has put in place certain measures to ensure players can't take advantage of card counting. The biggest edge that card counting gives you is that it's really good at improving your arithmetic and it's much more fun than times tables. 
The approach taken by casinos to keep the card counters (often simply called blackjack players) at bay is to keep a constant rotation of cards in the shoe in live casino so it's near impossible to count cards.
Without enough deck to get a count on, the card-counting contingent is powerless against modern blackjack.
Why You Should Play Blackjack Online
Blackjack is considered a game with the simplest of rules and also brings players the following benefits:
Social advantages – when you play online blackjack, especially in a live casino, you not only get to buddy up with your fellow players but also with your live casino blackjack dealer.
Mental agility – blackjack casinos don't just provide players with a great gaming time and the possibility of winning cold hard cash, but it's also a good place to practice your mental arithmetic.
Improvement of focus and multitasking – the best blackjack sites bring you the widest range of games but also the opportunity to hone those multitasking and focus skills as you could be playing more than one hand at a time.
Not only this but blackjack is a game so deep-rooted in society that it not only benefits online players but is also a great way to kill a long-haul flight or an afternoon with your gambling grandma.
Infinite Blackjack FAQ
Are live casinos rigged?

No. All licensed live casinos undergo a rigorous audit before a licence is granted by a legislative body such as the MGA or UKGC.

Scroll through an online casino affiliate site or take a quick look at any gamblers forum and you'll be overwhelmed by the number of posts of disgruntled punters flaring about a massive online casino loss, and, of course, that the games are rigged. This is simply untrue.

Is Infinite Blackjack available on mobile?

Sure thing. 55% of all gambling takes place on smartphones. But, not all Blackjack Infinite mobile apps are created equally. Make sure that your chosen Infinite Blackjack app has received good reviews.

Can I count cards at Infinite Blackjack?

Yes, but the only reason to do this would be to brush up on your mental arithmetic. Card counting is no longer an effective way of beating the house due to blackjack cards being kept in constant circulation.

This crushes any player's hope of counting cards while playing Infinite Blackjack strategy.
The Best Infinite Blackjack sites in 2023